your viewpoint.
It was also Britain's best-selling Sunday paper, with 7.5 million weekly readers. The website was less popular, having recently gone to a paid model, but was still ranked #317 in the UK (compare that with, say, gossip site PerezHilton, which ranks #288 in the US).
Which meant that, scurrilous content or not, News of the World was one of the few newspaper-based content providers who were seeing real growth in advertising. In 2010, advertising was up 10%, demonstrating what many cynics already think about advertisers: That they care more about readership, eyeballs and traffic than they do about 'good' content.
A scandal too far
Even when News of the World admitted to hacking the phones of various celebrities (Sienna Miller was the most recently famous, as the first to win a settlement from NOTW), advertisers stuck around. After all, readership was still up, website traffic continued steady (even with the paid model), and for all the media outcry, the average person secretly thinks that part of the price celebrities pay for their lavish lifestyles is a certain invasion of privacy. And anyway, even the British Prime Minister seemed to accept that it was only a handful of bad apples who'd done the hacking.
Everything changed when it emerged last week that NOTW journalists had hacked the voicemail accounts of 13-year-old murder victim Milly Dowler, giving her parents false hope she was alive and triggering a criminal investigation. News of the World announced that it would close down, after 168 years in business.
At first, everyone assumed it was shutting down to avoid the inevitable onslaught of lawsuits. But it was simpler than that: NOTW was going out of business because advertisers were pulling out in droves.
Consumers speak louder than 'readers'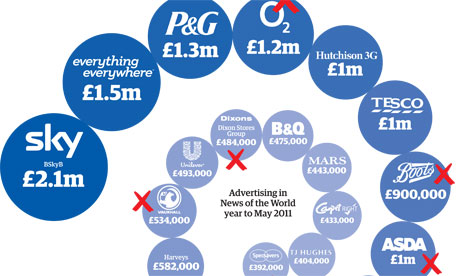 Image from The Guardian.
Turns out that NOTW readers not only comprise a valuable demographic (they over-index in the lucrative 35-44s) but are also better-educated – website visitors, for example, were more likely to have attended graduate school.
Which meant they were better equipped than most audiences to express their displeasure to advertisers – and advertisers listened. Big-name advertisers said they were deluged with calls and emails expressing disapproval, and social media channels also went crazy.
Of the 250,000 tweets mentioning News of the World on Thursday, about 16% also mentioned another brand: "Dear @TheCooperative, will you be reconsidering your advertising with #notw given that we now know they hacked Milly Dowler's phone?" was typical.
By Friday, NOTW had become toxic, with advertisers apologizing for current advertising and promising they had no plans to run future advertising in the paper, the 'Fabulous' supplement, or on the website.
Most experts agreed that it would take months for NOTW to recover – if it ever did – and in the world of big-budget publishing, who has months these days?
Content may be king, but the consumer is sovereign.
Some pundits are saying the whole News of the World scandal will transform tabloid journalism, especially in the UK. Maybe – the threat of criminal prosecution may help to keep some of the unscrupulous on the right side of the ethical divide.
For the rest of us, however, it's just a good reminder that at the end of the day, consumers, not 'traffic', are the holy grail.